What follows is a report card of sorts for the 2018 calendar year, offering highlights from my first four months as Shelby County Commissioner.
It has been an honor to serve you in this role, and I look forward to seeing many of these projects implemented and built upon in the years ahead.
The highlights below are organized chronologically under headings representing the three focus areas of my campaign: enhancing public safety, strengthening our economy and improving our system of education.
This is the framework I have used to examine every item that has appeared before us. For each one, I have asked myself if this makes Shelby County safer, stronger or smarter.
To these three focus areas, I have added a fourth category to also account for ways in which we have made government more responsive to your needs.
A SAFER COMMUNITY
Sponsored a $100,000 grant to the City of Bartlett, with half earmarked for the completion of a 40-foot training tower to improve the training capabilities of the Bartlett Fire Department, and the other half helping to replace the antiquated stage lighting at the Bartlett Performing Arts and Conference Center. (Oct. 15, 2018)
Toured 201 Poplar with District Attorney Amy Weirich and Commissioner Amber Mills to assess safety concerns at the Walter Bailey Justice Center. (Oct. 19, 2018)
Approved funding for the Fed Up anti-crime media campaign, which has been statistically proven to reduce criminal activity. (Oct. 29, 2018)
Selected Assistant U.S. Attorney Taylor Eskridge as Judicial Commissioner, a role responsible for setting bonds, reviewing misdemeanor citations and probable cause findings by police and sheriff's deputies, reviewing and signing arrest warrants and search warrants, reviewing orders of protection, presiding over asset forfeiture hearings, handling preliminary hearings on felony drug cases, and sitting in for General Sessions Court judges when they are absent. (Oct. 29, 2018)
Sponsored a $25,000 grant to provide the public match of the Boyd Foundation Dog Park Dash grant to build a dog park in the City of Lakeland, improving the amenities at Zadie E. Kuehl Memorial Park, expanding its use and enhancing the area's safety. (Dec. 3, 2018)
Approved the Sheriff department's purchase of an armored vehicle for search and rescue, detection of hazardous materials and protection from radiation exposure. (Dec. 3, 2018)
Joined unanimous votes in favor of updating Shelby County's building, electrical, mechanical, energy and plumbing codes, to better ensure safety in newly built homes and commercial buildings. (Dec. 3, 2018)
A STRONGER ECONOMY
Spoke to the Bartlett Area Chamber of Commerce about Shelby County's comparative advantage and what makes our community uniquely situated for economic growth. (Sept. 11, 2018)
Supported match funding for the yearlong Memphis and Shelby County Bicentennial celebration, contributing to an anticipated increase of tourist activity and Memphis being named one of Frommer travel guide's "Best Places to Go in 2019." (Oct. 15, 2018)
Voted against adding debt through the issuance of an additional $80 million bond for FY2019, an amount well in excess of the county's CIP budget policy. (Oct. 29, 2018)
Sponsored resolution to enable the Lakeland Commons development at Highway 70 and Seed Tick Road in Lakeland, which is projected to support 736 jobs, generate $30.7 million in new annual wages and have an immediate economic impact of $63.3 million in construction. (Nov. 19, 2018)
Supported resolution providing tax increment financing (TIF) to the Union Row development, a nearly $1 billion investment that would transform a blighted and largely vacant area of downtown Memphis into a thriving community featuring retail shops, a hotel, residential and office spaces, parking and recreation; the project is expected to create more than 4,000 construction jobs, support 4,000 permanent jobs, and increase tax revenues during the repayment period by more than 1,000 percent. (Dec. 17, 2018)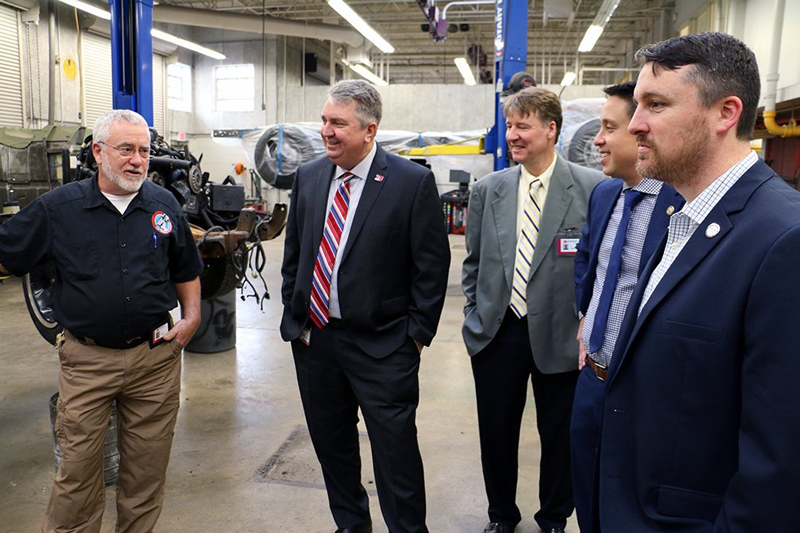 A SMARTER FUTURE
Approved the creation of an education liaison position in the Mayor's office to help coordinate countywide efforts and to provide strategic guidance concerning the capital and operational needs of public education throughout Shelby County. (Sept. 24, 2018)
Sponsored a $10,000 grant to the Bartlett Education Foundation to subsidize its annual fundraising banquet, allowing funds raised by the foundation to directly benefit teachers and students and to expand the number and size of awards to educators seeking help with a variety of instructional and programmatic needs. (Oct. 29, 2018)
Toured Bartlett High School with Superintendent David Stephens, Principal Tim Jones, Education Committee Chairman Michael Whaley and others to observe the district's innovative vocational training programs. (Nov. 1, 2018)
Joined Superintendent Ted Horrell, Principal Joretha Lockhart, Mayor Mike Cunningham, Board Chairman Kevin Floyd and others at Lakeland Elementary to celebrate their National Blue Ribbon School 2018 achievement. (Dec. 7, 2018)
Co-sponsored a resolution calling on the State of Tennessee to devote attention to successful implementation of its troubled TNReady testing program. (Dec. 17, 2018)
A MORE TRANSPARENT, RESPONSIVE AND PARTICIPATORY GOVERNMENT
Approved the creation of a new Communications Coordinator position in the Mayor's office. (Sept. 24, 2018)
Supported resolution allowing the Division of Planning and Development to implement a new software system to improve, modernize and speed up the building permitting process, providing online access for homeowners and contractors to apply for permits, set up inspections and monitor the status of inspections. (Oct. 15, 2018)
Co-sponsored a resolution to move the start of Commission meetings from 3 p.m. to 3:30 p.m. to allow for greater citizen participation and involvement. (Nov. 19, 2018)
Sponsored a resolution calling on the State of Tennessee to cease switching between Daylight Saving Time and standard time and relieve families suffering from the bi-annual disruptions which result in negative health consequences, vehicular accidents, poor educational performance, seasonal depression and reduced productivity. (Dec. 3, 2018)
Thank you for being an interested and engaged citizen, and for giving me an opportunity to communicate the work that is being done on your behalf at the Shelby County Commission.
Alison and I wish you happy holidays and a safe, prosperous and blessed New Year.